Alright I'll skip the apologies and get to writing there's obviously a lot to catch up on. Prague went pretty well except for the part where I was grinding everyday and didn't see any of the city. I played a lot of poker to end up 9th in the WPT, so close to that big score I haven't had in so long! In the EPT I made it into the money and lost a decent sized pot with the best hand for a min-cash. Prague seemed like an amazing city, hopefully the next time I'm there I'll bust everything on day 1.
My string of winning poker trips continued at Epic as I shipped the $2k turbo side event for $40k. I also got 2nd in the charity event. Good thing I played that one so I could keep my card for the second season
which is totally going to happen.
I said it'd be 50/50 before Epic started that there was ever a second season but I figured they probably at least have the funding in place for the entire first season. Oh well.
After the holidays I took off to Australia for a week of golfing and Portsea pubbing before Aussie Millions. I had no luck down under this year but as always I very much enjoyed myself. I played the $100k event for the first time and lost a lot of my and my friends money. Honestly I could have won but I just decided to let Dan have one.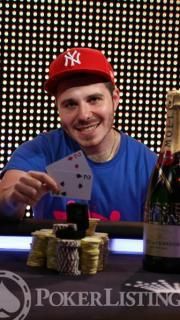 I skipped LAPC this year and went back to Fallsview to defend my 2nd place from last year. I failed, and then have mostly been in Toronto since then. Online has not been going terribly well this year either when I've played. My PLO results have been mediocre and tournaments have been going very poorly as of late. I had my first chance of the year for a big score three days ago in the Ongame Grand Slam $5k event however. Unfortunately I could only manage another 9th as luck again was not on my side at the final table. I'm very happy with the amount of chances I've been giving myself lately though and eventually I'll convert a big one. I definitely think I'm playing better than ever, even if the learning curve has resulted in me making some big mistakes I would never have made before.
Next up is another big Europe trip! I will be touring around the continent again in April to play the Irish Open in Dublin, WPT Vienna, EPT Berlin, and finally the EPT Grand Final which has returned to Monte Carlo. There are almost no breaks in the schedule so I will be grinding like crazy again. Honestly, I'm a shitty tourist anyways so it's probably for the best.
Mike